Choosing the best WooCommerce gift card plugin is pretty important when it comes to your eCommerce website. Adding Gift Card plugin for your website will increase your revenue and sales.
If you had a website that wasn't built on WordPress then it won't be as easy as it is with WooCommerce. If you want to utilize the holidays and seasons then it's time to setup a good plugin that will help with that.
I have compiled a list of the best WooCommerce Gift Card Plugins that works really well in 2021.
Benefits of WooCommerce Gift Card Plugins:
There are a lot of benefits to having gift cards on your eCommerce store. If you are in this article then you already know the benefits but to those of you who doesn't here they are:
Helps in increasing your revenue and sales.
Double the customers. When someone purchases a gift card from your site they are actually giving it to another person and they also become your customer.
Helps in marketing.
Attract new customers.
Increase brand presence.
Helps you utilize the holiday and festival seasons.
WooCommerce Gift Card Plugins:
I went through a lot of websites around the web to find the best ones out there.
I have also tried all of them to give the best opinion for you. These plugins also have more than one features that actually help in increasing your sales of your website.
In my opinion, below are the best WooCommerce Gift Card Plugins.
1. Gift Cards by Gift Up
Gift Cards by Gift up is an easy to use a plugin that you can use to create gift cards for your store. One of the great things about this plugin is that you can use these on your social media as well. This plugin is free to use but they charge a small fee for every gift card sold.
Features:
Custom design with your own branding.
Automated emails for gift card purchases.
Easy installation with a shortcode.
Multi Currency Support.
Use the mobile app to create gift cards.
2. PW WooCommerce Gift Cards
This is another plugin that is a plug and plays and it also supports guest checkout. PW plugin supports multilingual and it's free. There is also a pro version of this WordPress plugin that offers more features. Below are all the features this plugin has to offer.
Pro Features:
Set Custom Amounts
Schedule delivery
Specify a Default Amount
Customer-facing Balance Page
Adding funds to an existing gift card
Expiration Dates
Balance Adjustments
Sell Physical Gift Cards
Manually Generate Gift Cards
REST API
3. YITH WooCommerce Gift Cards
The coolest thing about this plugin is that it enables you to create a new product type and customize it as you like. This will not only look goof but also will increase the conversions. This plugin has a free version and a paid version as well. Even the free version has all the fetaures you need but if you think you are generating a lot of sales then you should probably check out the pro version too.
They also have a live free demo for you to check it out even before installing this plugin in your website. Below are some of the plugin's main features.
Features:
Creates a new product type.
Highly Customizable.
Offers a dashboard with all the tools you need to create gift cards.
Reports of the gift cards.
Creates an unlimited amount of gift cards.
Ability to create multiple images for your customers to choose the layout of the card.
4. WooCommerce Gift Card Pro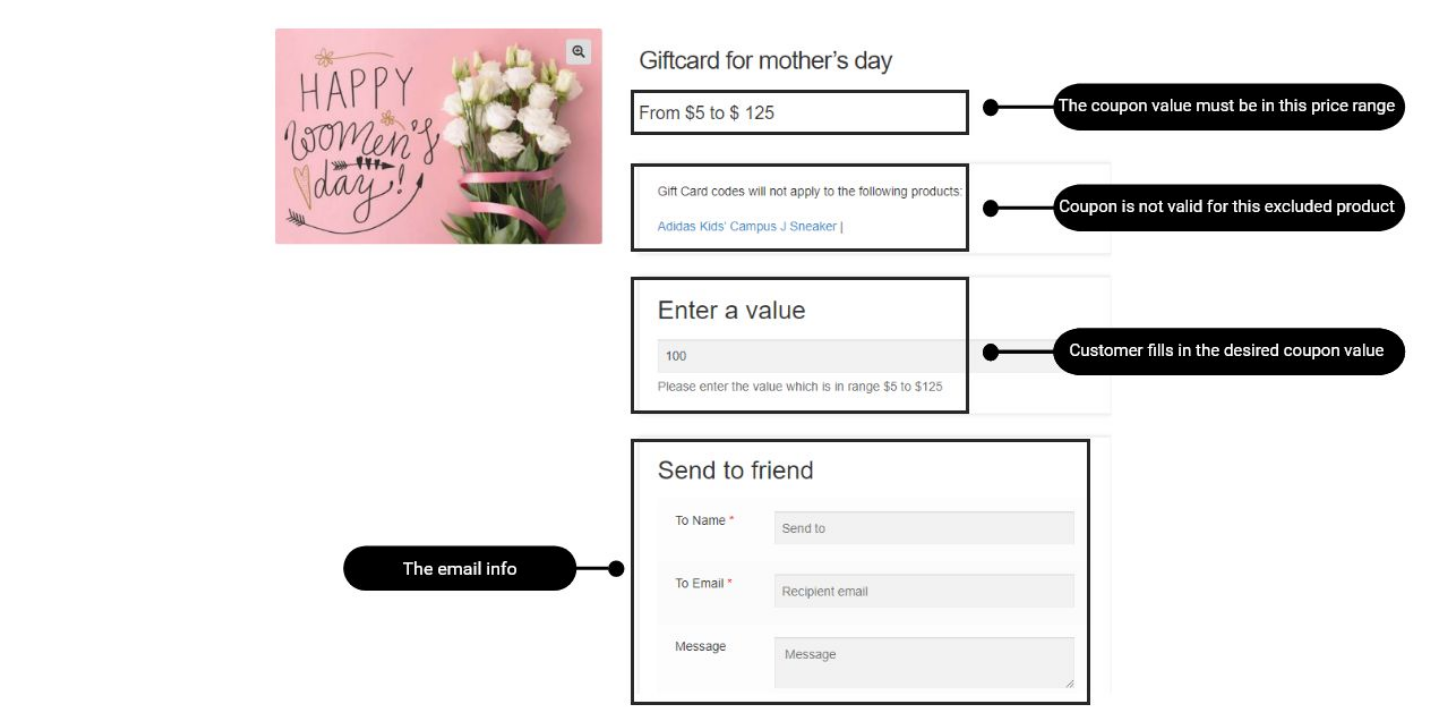 The plugin offers quite unique features compared to the other ones and one of them is QR code generation. A pretty modern plugin that has the features of the current generation's needs. The PDF version that this plugin helps to create and send to customers will make it more convenient and professional.
You can download this plugin from codecanyon and it is a paid plugin as the name suggests. If you are pretty serious about your business then spending a few bucks on this will definitely go a long way.
Features:
3 times of pricing for gift cards.
Multiple options to design your gift cards.
Track your gift cards via history log.
Supports shortcode.
QR code generation.
PDF Version of the gift card.
Email templates.
Supports multiple languages.
Import gift cards via CSV format.
5. WooCommerce Ultimate Gift Card
An extensive WooCommerce plugin that comes with a lot of features which makes it a lot more effective. You can customize your gift cards and allow your customers to share it via WhatsApp, SMS, Facebook, and more. Also it can help you send gift cards via QR, BAR Code etc.
This plugin has a free version and a pro version both of them are a great way to start it.
Features:
Customizable Gift Cards.
Redeem/Recharge Gift Cards on your Retail Store.
20+ Predefined Gift Card Templates.
Share Gift Cards Via WhatsApp.
Gift Cards via QR and BAR Code.
Analyze and reporting of gift cards.
Offline gift card in PDF Version.
6. Gift Cards By codemenschen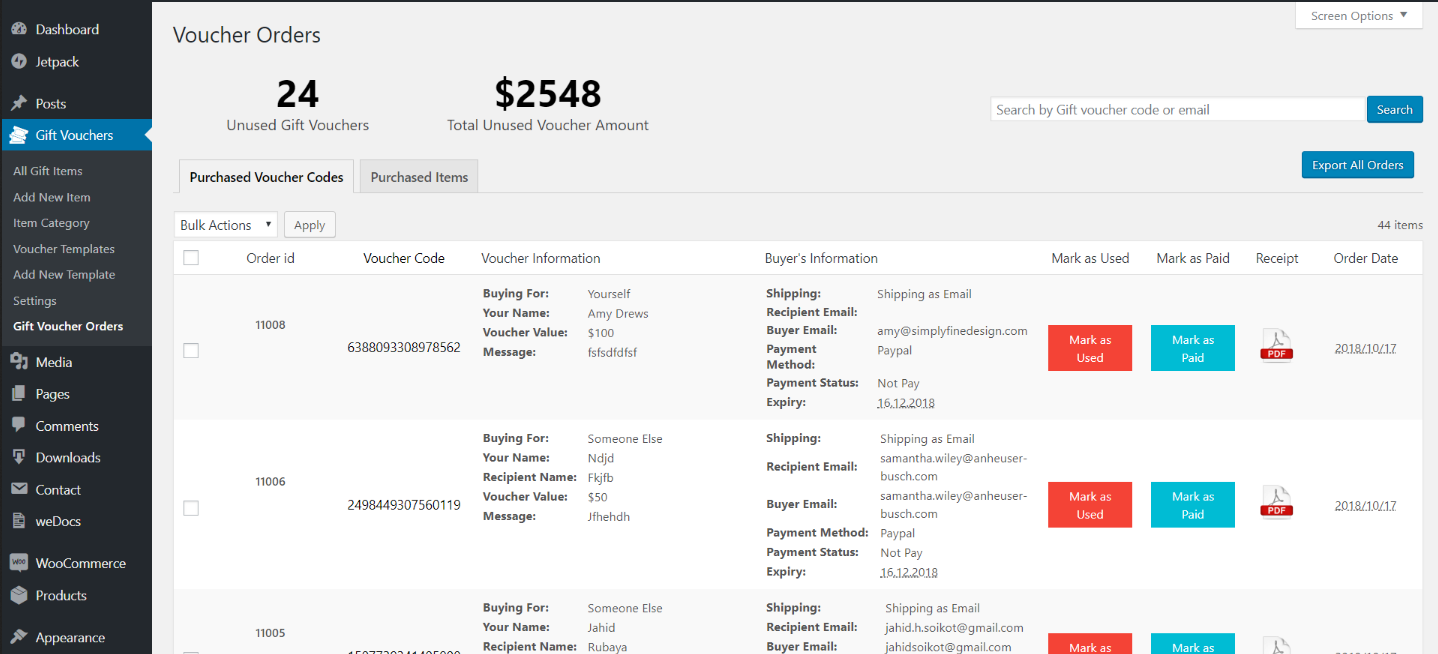 Gift Cards By codemenschen has a free version for you to try. Another extensive plugin with a lot of features such as Multi Payment gateway integration such as PayPal, Stripe, etc…
Regardless of the kind of store you have, you can generate and sell gift vouchers or gift cards for your customers. The pro version obviously has more features than the free one.
Features:
Admin can generate gift cards.
Schedule delivery.
Barcode vouchers.
Add commission.
Multi Payment gateway.
Hide price on gift cards.
Gift card categories.
7. WooCommerce Smart Coupons
Apparently one of the best-selling WooCommerce Gift Card plugin that does the job. This plugin is extremely flexible to use and has wonderful features that your store needs to set up vouchers or gift cards.
Use this to increase your customer loyalty and help repeat customer purchases.
Features:
Fixed and Percentage Coupons.
Bulk Generate and send gift cards/coupons.
Free shipping.
Sharable with links.
Free gift coupons.
Include coupons with product purchases.
Reoccurring coupons.
FAQ:
What is a WooCommerce Gift Card?
A WooCommerce Gift Card is basically a coupon, voucher, or a gift card that customers can purchase on your store and send it to their loved ones and the recipient can redeem the gift card on your store.
How to Install WooCommerce Gift Card Plugin?
You can install it on your WordPress dashboard by navigating to Plugins > Add New.
Are all of these plugins free?
Most of the plugins listed on this page offer a free version, so you can either choose to use the free version or upgrade.
What are some of the basic features of a WooCommerce Gift Card Plugin?
Some of the basic features are:
Create, edit, or delete gift cards.
Enable the option to share gift cards.
Read and analyze reports of gift card purchases.
Customize gift cards.
Email gift cards.
Set expiry for the gift cards generated.
Conclusion
Thanks for reading, I would suggest to try out the free versions of these plugins before you make the purchase. Each of these plugins has their own unique features to it and it's better to choose the one that fits your store goals and niche.